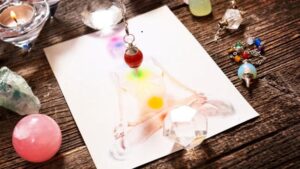 Crystal healing is a holistic, non-invasive, vibrational energy-based system of healing. Crystal healing involves using gemstones to bring balance to an individual's life and mind. Crystals have a stable and unchanging energy pattern. Each crystal has a unique vibrational resonance which is derived from its mineral content, shape, and the color frequency it emits. The energy of the crystal can have powerful effects on the energy vibrations within a person. Crystals act like tuning forks, helping bring harmony to the very unstable energy field of the human body.
I am a Hibiscus Moon Certified Crystal Practitioner as well as a graduate of the Love & Light Advanced Crystal Practitioner Program. Both the Hibiscus Moon Crystal Academy and the Love & Light School of Crystal Therapy are professionally accredited by the International Practitioners of Holistic Medicine (IPHM), the largest internationally recognized & trusted accreditation board for training providers worldwide.
Chakra Balancing Session: $100 USD for a distance session. This forty-five to fifty-minute session combines Hibiscus Moon certified crystal healing techniques and Love & Light Advanced Crystal Healing techniques to balance the chakras and help re-align energetic frequencies.
Special Healing Session: $150 USD for a distance session. This fifty-minute to one-hour special healing session offers three types of special crystal layouts after a chakra balancing.
Protection & Grounding Layout - It is important to connect with the Earth's electromagnetic field to restore balance and ground our own EMF. This crystal healing session is particularly effective during the new moon. Feel energy and be open to messages from Mother Earth. Black tourmaline, smokey quartz, and black onyx are used to this ritual.
Transmuting Shield Layout - This is perfect for empaths and those going through a rough time or feeling vulnerable. This layout strengthens your electromagnetic field and optimizes transmuting abilities. It is not recommended for those looking to relax. It is perfect for lightworkers. Hematite, pyrite, and clear quartz are used for this ritual.
Ancestral Karma Clearing Layout – Familial history and lineage can accrue karma just as we can as individuals. The goal of this layout is to clear energetic baggage and karma passed down through your ancestral line. This layout utilizes fossils, which are known for their connection to ancestors. Other stones used for this ritual include hematite, clear quartz, and aura quartz.